Is RPA the Right Solution for your Organization?
Here's everything that you need to know before adopting RPA for automating your business processes. Also, what are the most eligible business process for RPA adoption and the next steps you should take

Karthik Kamalakannan / 29 May, 2020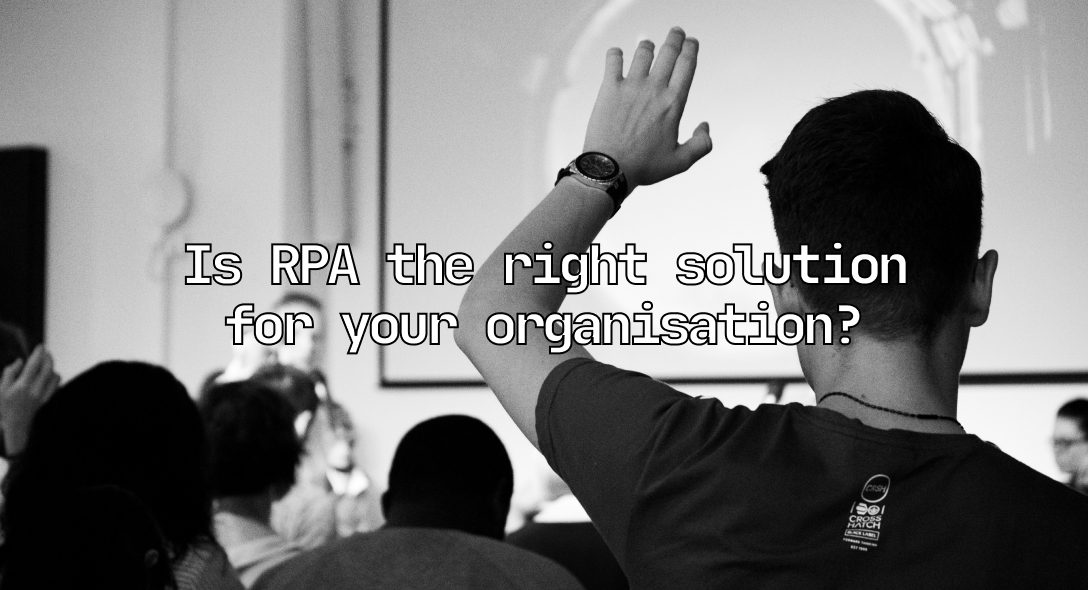 SIGNS THAT YOUR BUSINESS NEEDS RPA
Your employees wrestling with "the swivel-chair effect" and performing repetitive tasks
You have a long backlog of legacy integration needs
Some of your tasks require higher levels of compliance, accuracy and auditability
Significant process bottlenecks have already been identified in the current process stream
Process redesign did not produce results
BEFORE THE RPA ADOPTION...
Prioritise the need for RPA adoption in each department/business process, which will determine the order of RPA implementation.
Identify key metrics of business processes in order to identify the processes right for robotic automation
Classify task and processes, do not mix a repetitive task with a repetitive process
Do a preemptive analysis of RPA cost versus enhanced productivity of the department to undergo RPA adoption.
Be aware of current process error before developing an RPA solution. Faults in the processes may lead to an erroneous solution as RPA with a bottleneck has no use
Clearly identify the business-critical decisions, which are part of a business process and evaluate if RPA is a substitute for human intervention for such decisions or not.
DEEPER EVALUATION
Do you have internal or external systems (e.g., websites, portals) that cannot be easily linked other than via a nonintrusive, application UI pathway?
Does your RPA project only need to be automated for a short period of time, after which you will implement a longer-term solution?
For various reasons, has your organization not managed to connect modern and legacy systems together due to technical or business hurdles?
Do you need an RPA solution now or later?
Can you wait for IT to deliver the integration? time/money
MOST ELIGIBLE BUSINESS PROCESSES FOR RPA ADOPTION
Every industry capitalizes on certain departments for their overall productivity. Effective and foolproof performance of those departments is the key to their success in the market.
Adopting RPA to upscale the performance of business-critical departments, depending on the nature of their industry, is crucial.
Weightage of various departments in 3 major industrial sectors:
Production/extraction of raw materials (primary), Manufacturing (secondary), & Services (tertiary)
RPA FOR YOUR BUSINESS?
If you would want to discuss adopting RPA for your organization, please feel free to get in touch with us at [email protected] or chat it out right here on this website.
Last updated: November 21st, 2023 at 6:56:16 PM GMT+0