5 Lessons we learnt from our large-scale enterprise AI implementation
Implementing an AI solution is not just about deploying the code and handing it off to the client. It is more than just that. Here are a few lessons we learnt from one of the largest AI implementation we have ever done. Case study.

Karthik Kamalakannan / 28 May, 2019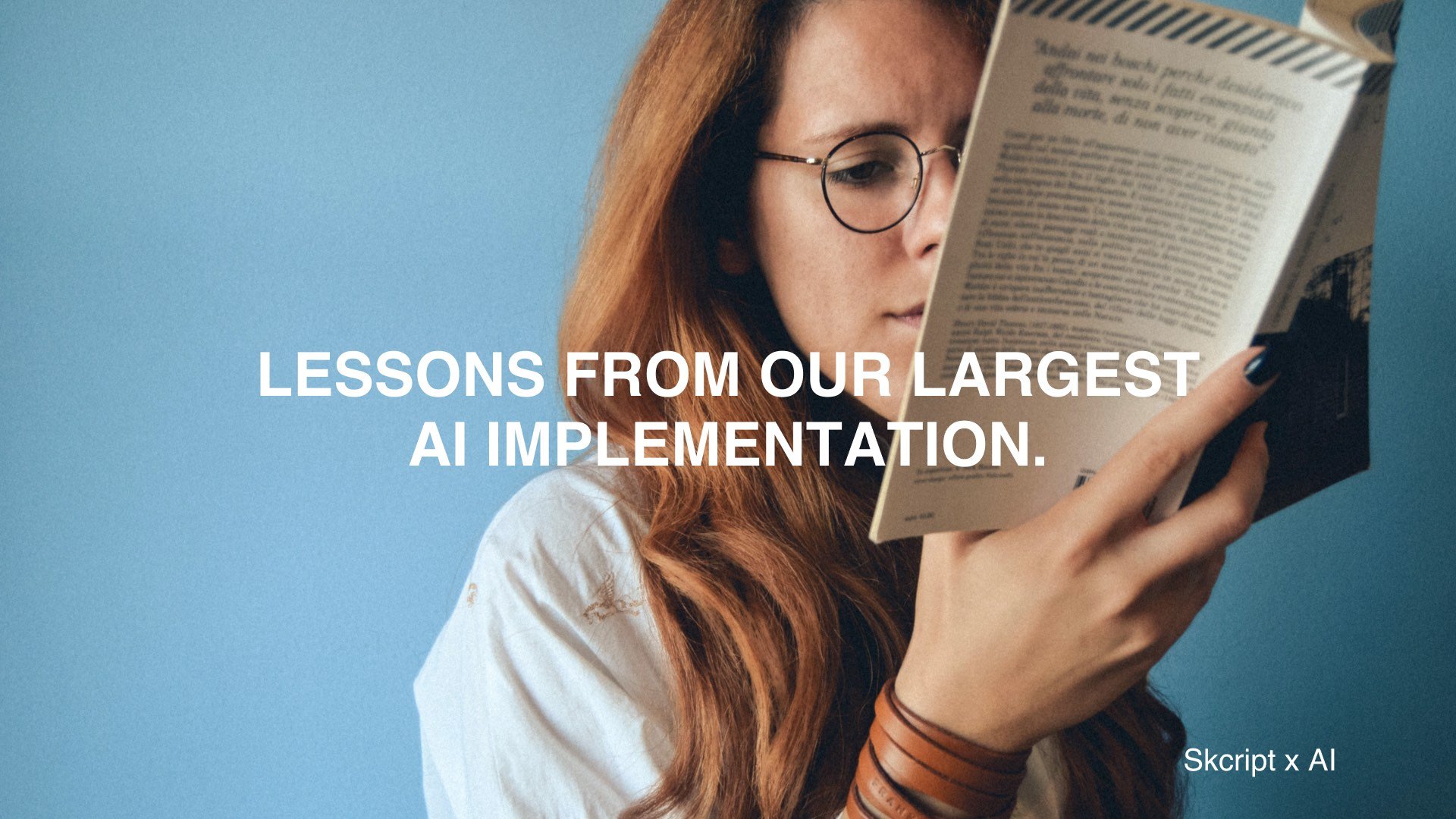 A few weeks ago, we successfully completed one of the largest production implementation of AI for one of our customers. What started as a complex AI implementation, got even more complex when we neared production.
Artificial Intelligence is one of the most important topics among our customers when it comes to improving their business process or customer experience or employee experience.
While deploying this large scale predictive analytics + image recognition system, we started to learn how different and complex these AI projects could be. So we started to note down the things we learnt, and here are the top 5 business critical things we learnt about implementing/building an AI engine for enterprises.
5 lessons we learnt from our enterprise AI implementation
Understand the business process really well - Do not underestimate the value of understanding the entire business process of the organization. Along the way, AI can touch many parts of the business. Rewriting them is a pain and is a huge waste of money at a later point. Understand every single aspect of the business before starting the development of the project.
Representing the results of AI are as crucial as the accuracy of the decisions - AI can do many things in an organization. But representing the results the right way to help people make better decision is extremely crucial. Imagine representing a business critical alert that AI predicted with a green signal on the dashboard. It would be catastrophic for the business and the value of AI will never be realized.
Data is not 100% true - Data is something humans created, fed it in and organized before AI was even born. The data that is available to the AI might not be true at all in the first place. If your AI is involved in making decisions based on real-time incoming data, it is better to implement an assistive intelligence system, rather than a fully autonomous AI system.
Outline the return-on-investment roadmap early-on - Helping customers understand the time, value and the accuracy of the AI system before beginning the project is crucial. Ultimately, everyone should understand that AI is not magic. It is meant to do certain specific tasks faster, and data-backed. For some use-cases ROI might be realized only after a few years, but for some, value could be realized even minutes after implementing AI solution.
AI implementations are iterative - Training the AI is as important as building AI itself. Running the training in a near-production environment before it is rolled out to thousands of users will save a lot of time. Above all, the speed at which AI can learn how to make decisions could be slower and compute intensive process. After all, humans were built over hundreds of years worth of experience. AI is just being born in the industry.
In all of the experiences we've gained from implementing cognitive systems for our clients, there is one thing which has been a common goal:
Use AI to improve our business process & reduce time.
Thus, we invented a proprietary method of analyzing how AI could help a company harness value, and how fast they can do it. We call it "Skcript Analyze Program".
For every single implementation of AI, here's what our customers get with the Skcript Analyze Program:
Detailed understanding of AI (For CXOs and other stakeholders).
Process understanding document which outlines the business process of the organizations.
A Proof of Value for the client to see how things could change with AI in the organization.
The Binary Validation Document - a simple document that exactly says whether the client actually needs AI or any other solution.
A timeline for implementation and a timeframe for realizing the value of AI when we go live.
We have seen our Skcript Analyze Program to be extremely successful with our clients, and we are expanding this to other consulting divisions as well.
Our engineers and the management teams are extremely proud to have been delivering unique outcomes with the help of AI to help our clients be future-ready.
We can't wait to work with more organizations to harness the power of AI and see it work. If your organization is interested in Skcript Analyze Program, please write to us at [email protected]
Contact us →
Last updated: November 21st, 2023 at 6:56:16 PM GMT+0