9 Key Business Benefits of RPA
RPA, the next evolution of business operations provides huge benefits to enterprises by automating their manual and repetitive tasks, enabling humans to work on creative and logical tasks

Karthik Kamalakannan / 21 May, 2020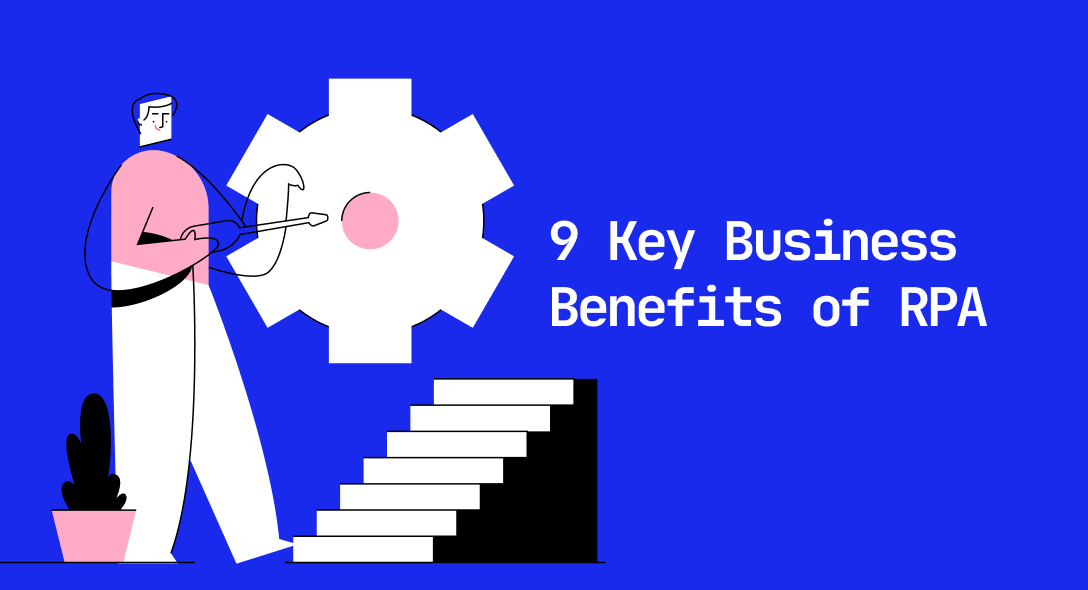 Robotic Process Automation (RPA) is a significant and buzzworthy technology – but when it comes to the actual business applications of RPA, most companies are having a difficult time considering, let alone justifying it for their own brand. We developed this comprehensive guide to outline how Robotic Process Automation can be applied to your real business needs and discover the key benefits of RPA.
Why RPA?
Robotic Process Automation (RPA), an emerging field of business process automation, capitalizes on software applications (often called robots or bots) to replicate and improve tasks typically performed by humans.
RPA is considered the next evolution of business operations due to its low running costs and ability to reduce human dependency. With RPA, companies are able to automate repetitive, manual tasks and leave more rewarding, logical, and creative work for humans.
"To match the speed of technology we must reform current conventional business processes with AI & robotic automation."
21st-century business drivers, and their success, depend heavily on technology. Technology and the processes it enables are faster than ever before, enabling the pace of the production to grow exponentially. To nurture such growth, enterprises are embracing modern technology developments, such as RPA, leaving manual and time-consuming business processes behind for AI and robotics enabled solutions
Business Needs & RPA Solutions
The marketplace is composed of various types and sizes of industries producing tangible goods or valuable services. While each of these industries operates with vastly different internal departments and processes, all are defined by the processes they form to function and run smoothly. Yet often processes leave companies heavily reliant on human performance. Businesses are impacted by human limitations. Most brands underestimate the true cost of human limitation and ignore the opportunity for process automation.
"Empower employees through technology by acknowledging the true cost of human limitations."
RPA provides the key to overcome human limitations, allowing brands to keenly adopt technology trends and excel among global competitors.
Human Limitations:
Short Timelines
High Complexity Tasks
Repetitive Tasks
Unintended Mistakes
Unavailability/Emergency
High Dependency Tasks
Lengthy Processes
Business Benefits of RPA
RPA emulates user interactions with applications at the user interface level. Rather than just technology, RPA's value is based on its speed, ease of development, and deployment.
Non-invasive in nature

Using RPA businesses can avoid fresh expenditure on software development and still plug their process gaps with minimum changes in the current infrastructure.

Quick development

RPA's development cycle is considerably less as compared to typical IT-led application integration projects.

Low investment

As a result of direct deployment, the cost of a high complexity implementation and pilot programs becomes less.

High ROI

Due to the reduction in full-time equivalence leading to cost savings, an increase in the scale of operations and re-deployment of the workforce in value-added tasks.

Analytics

Analytics for any organization can be powered by the data collected with the task execution of RPA.

Higher Scalability

Highly scalable compared to human capacity which is limited to a certain level in the fluctuating demands in the market.

Auditability, Consistency & Error rates

These are the three of the many features RPA brings into the system, which is due to the direct substitution of any human error by the foolproof robotic implementation.

Optimized business process (Onshore and Offshore)

Incorporating RPA enables businesses to optimize their business processes and have the right combination of offshore, onshore and nearshore capabilities.

Employee Satisfaction and Retention

It increases with the implementation of RPA. Automation allows employees to trade mundane tasks for more creative and rewarding work.
RPA for your business?
If you would like to talk about RPA for your organization, please feel free to get in touch with us at [email protected] or chat it out right here on this website.
Last updated: November 21st, 2023 at 6:56:16 PM GMT+0