s-lab | 2018-03-23T14:04:36+05:30
Office Space and Productivity
Hellonext Team / 2018-03-23T14:04:36+05:30
S/LAB was started, officially, by Skcript few days ago. We are really excited about this new initiative because there are no rules and no restrictions as to what the topic of research has to be. Your idea, you do the research and you produce the results. I was really excited and the first idea that struck me was how office space affects productivity along with few other ideas. But I chose this to be my first implementation.
From the blogs I have read, everything talks about the factors that affects productivity but all for a larger organisations. There are no blogs for a office space that is smaller in size. Our office space is small but the best part about our office is the writing space. Everyone likes to scribble on the walls when we were kids and true to that, majority of our office walls have glass panels allowing us to write all over it. All we need are some markers which are available in abundant at Skcript. Even our desks, white wood finished desks, allow us to write on them.
Coming back to the point, here is my contribution. In this blog, I have covered few elements that influence the productivity in an office, majorly offices with smaller working space.
Color:
The colour of the office space is a very important factor. In larger office spaces, you can play with colours, but its not the same with smaller offices and the best offices in the world are white. Any colour other than white, will either be in relation to the colour used in the brand or product and majority of them will fall under the light colour palette. The reason behind this is they provide a soothing effect. In smaller office space, having white walls and adding items that add colour is the best way.
![](https://cdn.skcript.com/assets/svrmedia/heroes/f/Screen Shot 2018-03-23 at 3.11.24 PM.png)
Suggestions:
Furniture: Apart from the office desks or cubicles, bean bags, coffee tables, book shelves and any furniture that has a splash of colour in them can be an option.
Poster : One single poster taking up a wall or multiple smaller posters that has colour that will get the people around to sink into a more productive day.
Stationery: Sticky notes come in all colours. Having a stack of sticky notes, markers, sketch pens, and what-not-stationeries on each desk will be fun to look at and also functional. And having them accessible in each desk is preferable.
Toys: Every office has some crazy Marvel/DC/Harry potter fans. Add toys, hang them from the ceiling or mount on walls to excite them.
Utilising the space:
Many of you might have noticed conference rooms, meetings rooms, lounge and a lot of other unknown rooms (Who knows, there might even be a room of requirement as in the Harry Potter books) in well-known offices. In a smaller office space, the space can be split into 5.
A lounge that has the book shelf, bean bags, and allows the team to have a relaxed conversation.
A closed meeting room, to have client calls, meetings involving a part of the team or any small gatherings. This better be soundproof to avoid troubles later in the future.
The actual work area, where everyone gets their own desks and yet stay connected.
The focus room. The room of concentration. Whatever you may call it. This should be able to contain very little part of the team, so that people who choose to work in seclusion away from the noise and other distraction can work from here.
And of course the Pantry. Most of the exciting stuff are here. Water, coffee, munchies, and the access to a lot of other food.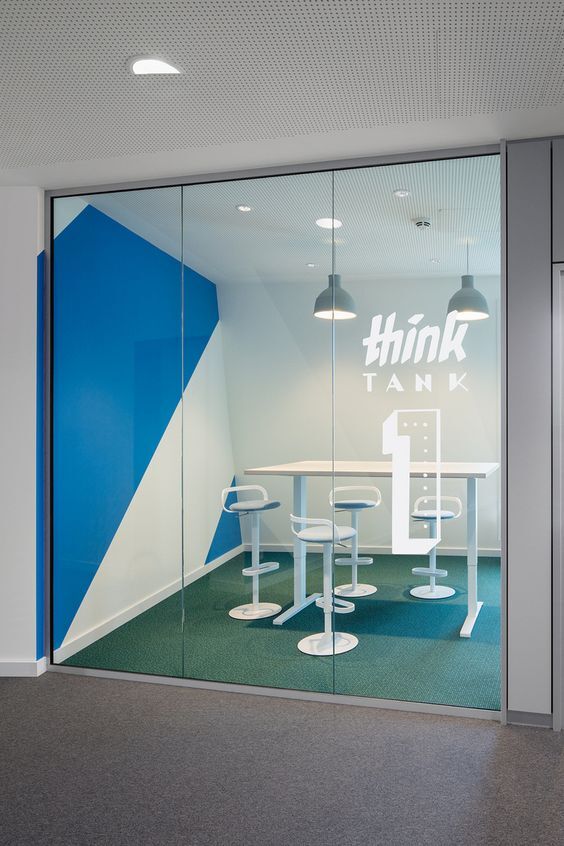 Furniture:
Though a part of it was mentioned in the colour's section, having the right chairs do matter. The posture while working or relaxing is very important as once affected by a bad back or neck ache, there is no going back. And one other important part about chairs is their mobility. If the chairs have wheels, then they have to move smoothly, if not then they have to be light enough to be moved around. Nobody likes to drain their energy moving chairs.
Other furnitures like storage boxes with tags to distinguish the contents inside, book shelves - especially open shelves that allows people to observe the colours. Book lovers will feel elated every time they look at it and even the non-book worms!, and few compartments to hide away the not-so important thing.
![](https://cdn.skcript.com/assets/svrmedia/heroes/f/Screen Shot 2018-03-23 at 3.11.40 PM.png)
But bear in mind the space, as no furniture should take up too much space but just the right amount.
Lighting:
Lighting plays a major role in an office. If the company involves working on laptops and systems all day then the lighting has to be in such a way that there is no glare on the screens and doesn't add additional strain to eyes. Laptop screen should be faced opposite to windows to avoid reflection. Smaller offices can invest in lamps that allows you to carry around and table lamps for focus.
![](https://cdn.skcript.com/assets/svrmedia/heroes/f/Screen Shot 2018-03-23 at 3.11.49 PM.png)
Yellow lights are bad for eyes, they say, but you can find lights that are slightly yellow and gives a really good ambience and focus.
Junk:
Wires all over the desk can ruin productivity more than you can imagine. This is an unavoidable situation in a lot of offices, a solution to this is to get inbuilt power supply desks and other means that are not cheap.
The easiest possible way is to tape and wrap the extra wires beneath the desk away from the habitable spaces.
![](https://cdn.skcript.com/assets/svrmedia/heroes/f/Screen Shot 2018-03-23 at 3.12.00 PM.png)
Throw away the junk that is occupying even the tiniest space possible. Run a cleaning session every once in a while and prompt everyone to throw as much junk as possible.
---
Some might wonder adding some plants to the office, but there has to be one person responsible for taking care of the plants and finding the right plant and maintaining them is something that we failed to succeed at. If anyone can suggest some good ideas to add some greenery to our office, we will be more than glad.
Note: The images used are reference images from the research carried by us.
There will be few more articles following this, that helps in improving the productivity. All these articles will eventually lead to the research paper, OS:OP.
Last updated: September 7th, 2023 at 7:42:06 AM GMT+0
Hellonext Team
Hellonext is a user feedback tool and this article was written by many people at Hellonext. Hellonext helps prioritize product roadmap based on user-input.