I run a technology company, and I moved to Pen and Paper
How a move to tracking tasks on Pen and Paper changed my life in a way I never thought it would. Learn more about how I use Pen and Paper to manage my task every two hours.

Karthik Kamalakannan / 01 November, 2018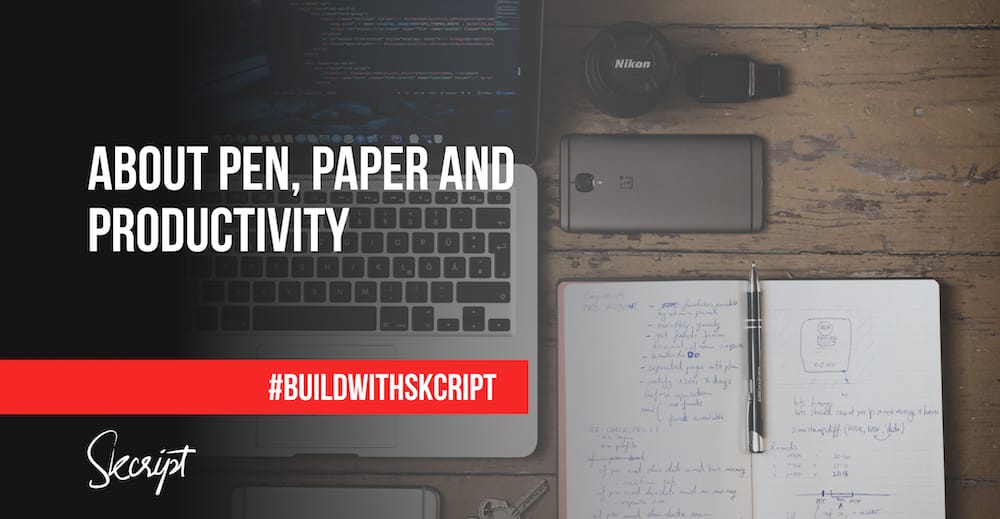 Over the past two weeks, I have been trying to optimize my working style as much as I can. When I took this task in hand, there were only two things I had to focus on:
Eliminate the tasks that consume time to perform a task
Reduce the amount of time tracking and updating tasks
I wanted to do this since I moved to a phase where I waited or pushed a ton of things from even tracking, since I would wait to get to my laptop or iPad to assign these things to myself or put it on my reminders list. And whenever I opened my Mac or unlocked my iPad, one thing would happen for sure: "they would scream with notifications from email, messages, Slack (god damn Slack), server notifications and much more". All of a sudden, the goal I opened my Mac with, is now lost. I had to get to the P1 issues, and I miss the context ultimately.
I wanted to get over it. I was done with my own process of going digital.
Two weeks ago, I moved to the same old Pen and Paper. The same tool that was used by legends who changed the world. This was a life-changing decision for me.
But moving to Pen and Paper was not simple. It demanded me to change the process a lot and work the way it wanted me to work. For example, I now take a write down the things I need to do every two hours on my Monologue notebook. This gives me granular clarity on my tasks and points to remember every two hours.
Moving to pen and paper has made my mind crystal clear about what I have to do every two hours. There is definitely something special in writing things down and seeing yourself write on a paper with your own hands. It feels way better than the fancy, not-so-accurate Siri dictation to create reminders and assign myself something.
How do I handle tasks that others at Skcript assign to me?
We use Basecamp at Skcript. Every day, every time. It has become the go-to tool for us for everything at Skcript. So when someone in my company has a task that I need to execute, they assign it to me there, and all I do is to check the notification, write it down in my 12-hour work split paper, and execute it. Once done, I spent 10 exact minutes every day updating those things on Basecamp. It seems to be working for now.
Making this change in my life has allowed me to do one thing right: Focus on the right thing, look back and iterate the focus.
What life hacks do you use to gain focus on the work you do? I'd love to hear it from you.
Last updated: November 21st, 2023 at 6:56:16 PM GMT+0