Robotic Process Automation in Insurance Industry
Robotic process automation (RPA) and artificial intelligence (AI) are true "game changers" for boosting efficiencies and achieving cost savings in the insurance industry. RPA is used to automate repetitive, manual, time-consuming rule-based tasks or to establish a fully automated end-to-end process with the aid of a "software robot."

Karthik Kamalakannan / 10 November, 2020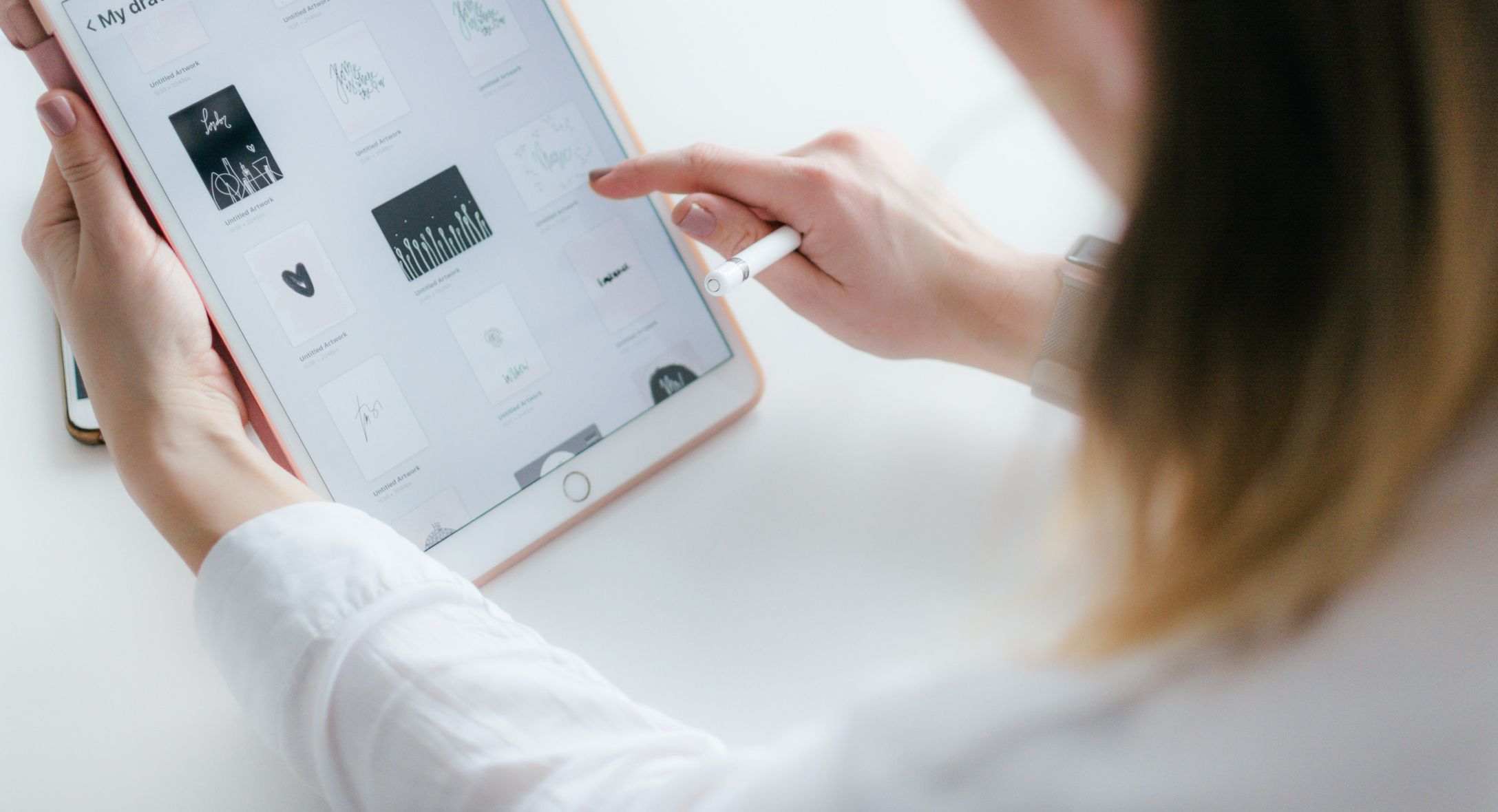 Insurance firms at present face tectonic shifts in the industry landscape due to technological innovation, new forms of competition, and an ever-challenging financial environment. Moreover, many insurers are confined in implementing new technologies due to legacy IT and paper-based infrastructures.
In today's challenges, there has been a surge of interest in the practical uses of Artificial Intelligence (AI). So, this article is built to primarily bring clarity to the current application and future potential of Robotic Process Automation (RPA), one of the most accessible fields of Artificial Intelligence for the insurance industry.
Moreover, RPA is the foundation for a broader digital transformation strategy and the next level of automation, supported by machine learning and AI. RPA can be leveraged across the entire insurance lifecycle. RPA projects can be completed in as little as eight to twelve weeks and can reduce operational costs by as much as 75%. This makes RPA an attractive option for companies that are looking at increasing automation as a competitive edge in today's marketplace.
Forces driving change in today's insurance industry
Like every other industry today, insurance companies are also under continuous pressure to meet shareholder expectations and deliver great profits. Earlier, insurance companies have been able to invest premiums paid by customers into several financial instruments and get good returns. But, in today's low or even negative interest rate environment, this source of income has dried up.
The competitive landscape has also become much more troublesome. Online insurance providers with minimal "bricks and mortar" infrastructure can give extremely low rates. Private insurance customers are also placing continued downward pressure on price; using search engines and comparison platforms to find bargains.
On the company side, brokers negotiate with insurance companies to urge the simplest price-performance ratio for his or her clients. On the horizon looms potential competition from companies like Google, Amazon, and Facebook. These global giants have accumulated huge amounts of private data and are only small steps faraway from offering customized insurance products supporting individual profiles. Besides, more and more customers expect strong, personal digital interaction with the insurer, e.g. the flexibility to upload documents to a portal rather than using paper mail, or opportunities to shop for a product spontaneously with a mobile app or on a social media platform. To counter these challenges, the insurance industry needs a far higher level of efficiency and tech-savvy, personalized products moreover as new ways of doing business to remain at the competitive forefront.
In correspondence to the megatrends driving change in the insurance industry, there are operational "pain points" that insurance companies are urgently trying to address:
Robotic process automation can solve operational "pain points":
Repetitive tasks were done manually
High potential for human error
Sequential handling and bottlenecks
Individual silos of process knowledge
Data dispersed over mutually incompatible IT systems
Absence of dashboards to track case progress
Long response time for customers
Long process training cycles due to the complexity
Limited ability for quality control and governance
Benefits of RPA
Factors that cause the RPA attractive include fast implementation. As a result, a quick return on investment. The image below lists typical results in reduced operational costs, increased turn-around time to fulfill a request, and increased productivity.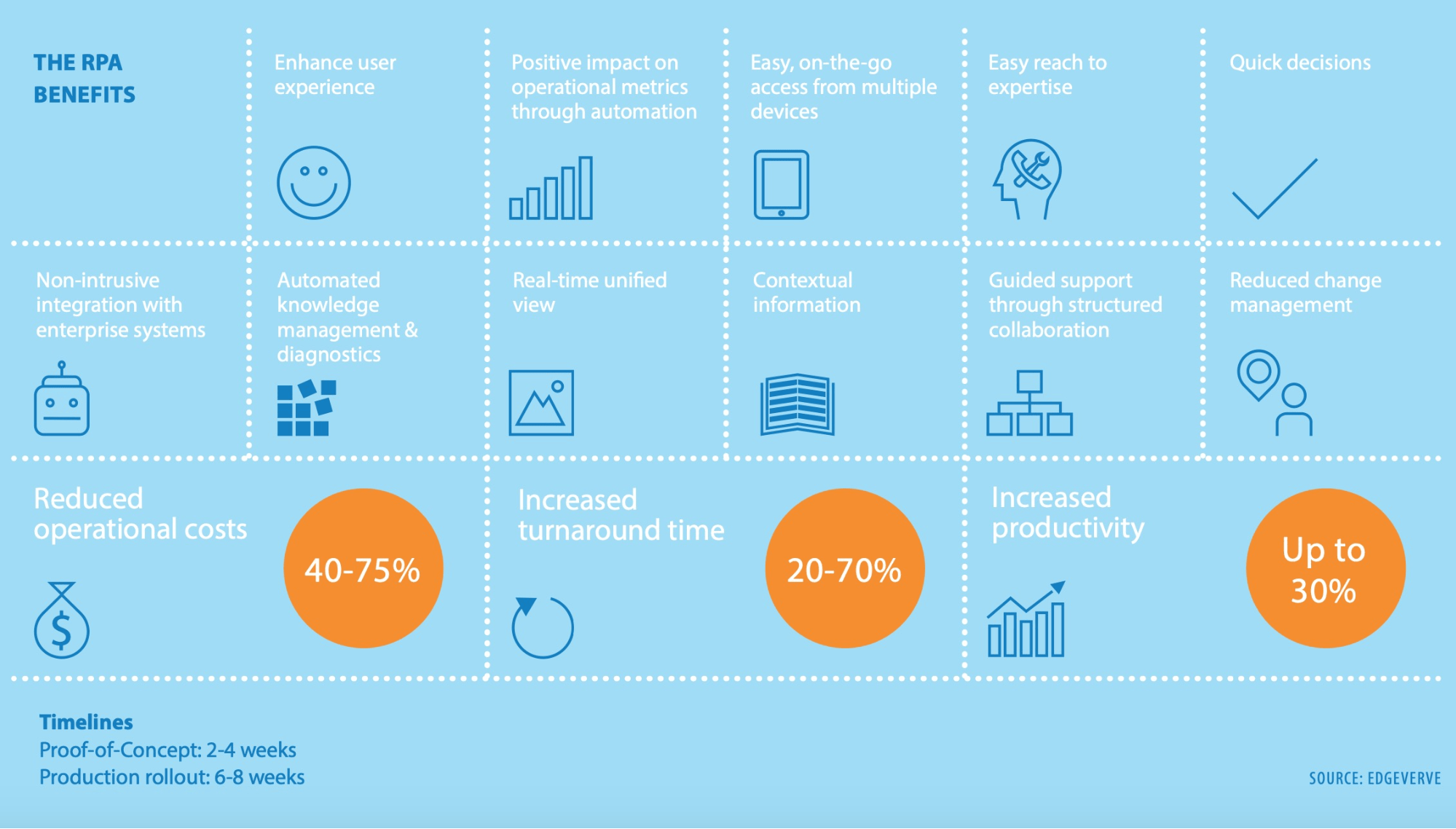 From a strategic human resources perspective, RPA has the potential to reshape the workforce from a "pyramid" to a "pentagon" model (see diagram below). As RPA covers repetitive, rule-based tasks, it allows employees (especially on the operational level) to target more difficult, higher-value activities like monitoring, quality control, and problem-solving – and thus amplifying the workforce potential of each individual.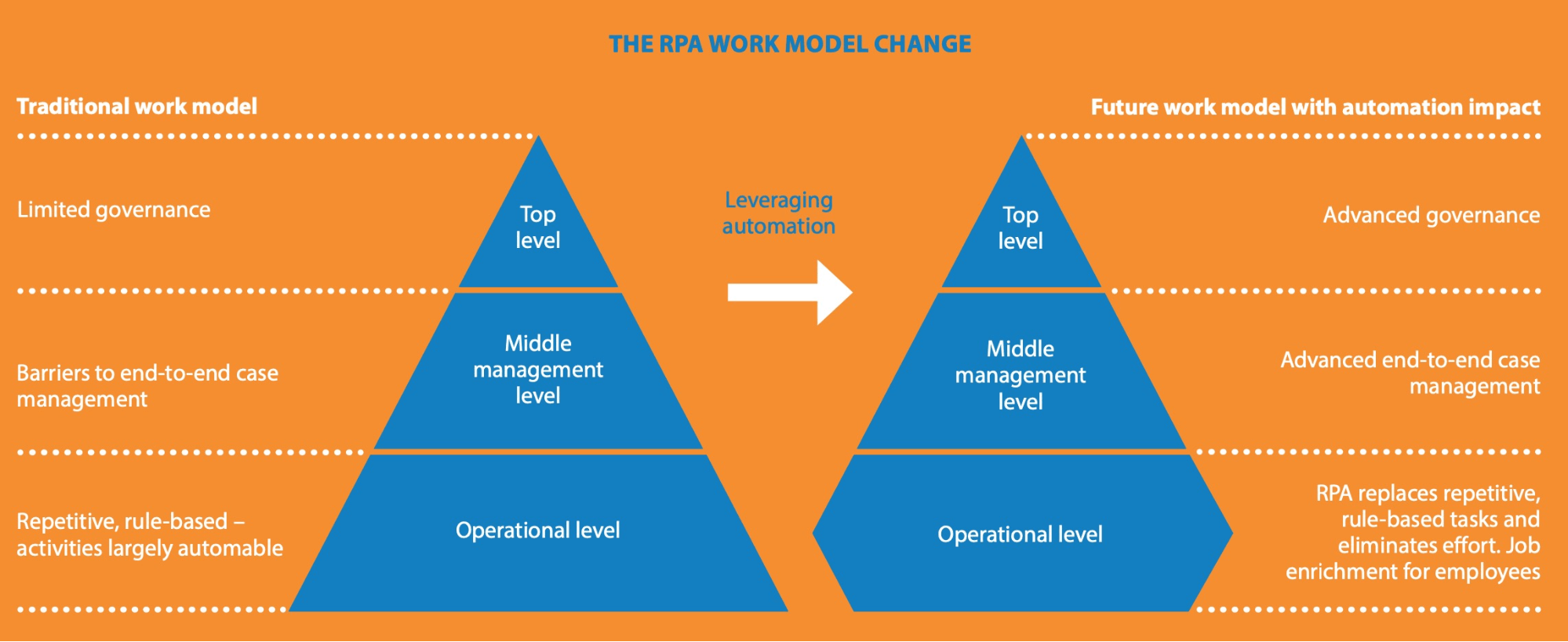 Practical applications of RPA in insurance
From a high-level process aspect, insurance companies propose varying automation potential. The capacity for implementation depends on the IT landscape, the processes and organizational structure, the business areas, and the automation maturity level across the enterprise.
The image below shows the automation potential within the different service areas (administration, service, and support work) across the entire insurance life-cycle.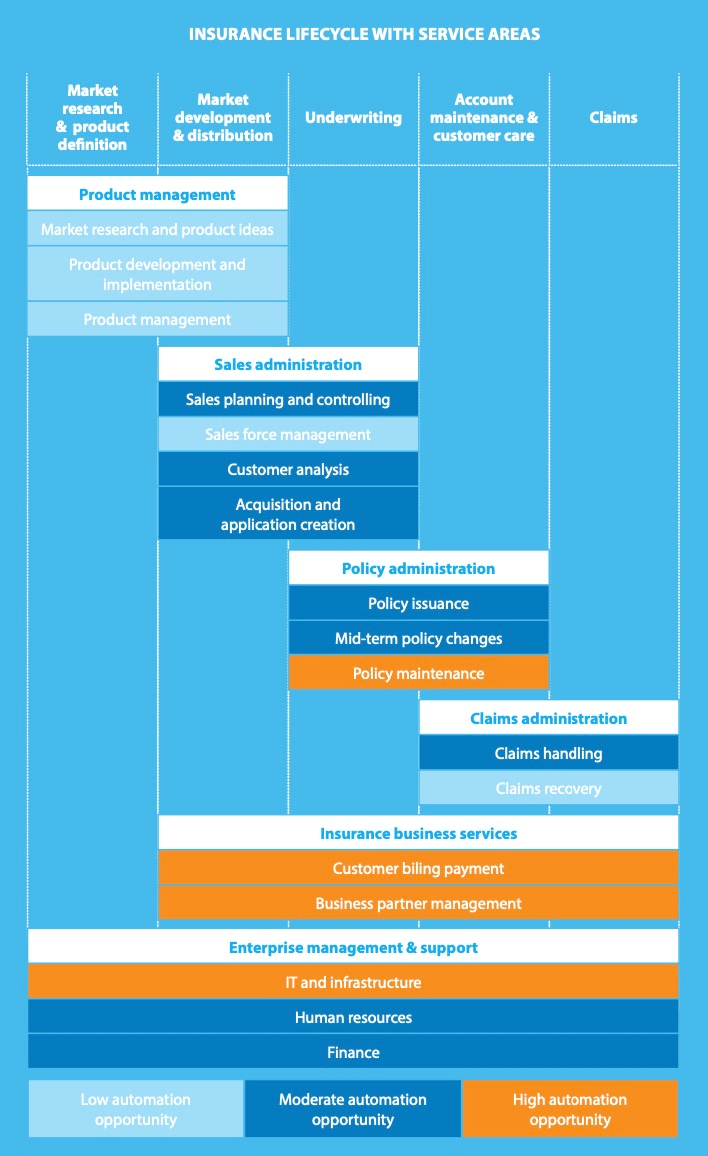 RPA can benefit insurance companies to become more cost-efficient and competitive across many daily operations as well as create digital end-to-end processes to enable future technologies. The below lists concrete examples of RPA in each service area:
RPA Application Examples for Service Areas
Sales administration
Generate leads and assign to agents
Create a sales funnel report
Check the credit standing
Enter data in product offering system
Policy administration
Enter data in the policy system
Issue policy
Update policy for planned events
Check change requests and execute or transfer to 2nd level support
Claims administration
Automate registration and assignment to the claims handler
Straight-through processing based on automated claims segmentation
Rule-based fraud detection
Track claims over various
Insurance business services
Automate claims payments
Automate daily reconciliation
Recognize and solve duplicates in partner data
Automate partner changes
Enterprise management & support
Digitization of paper mail and automated assignment or processing
Automated IT Service Desk
Approve supplier invoices and payments
Perform closing operations applications
Optimizing the input management
RPA is well adapted for processing contacts from customers via paper mail, email, or input from other channels. As an initial step, non-electronic input gets digitized. Following this, RPA works with optical character recognition (OCR) and intelligent character recognition (ICR) software to recognize the subject of the request and intensify the correspondence with meta-data, which includes all the relevant extracted data about the document.
Based on the meta-data, RPA analyzes the request and performs straight-through processing: direct execution of the necessary changes in the IT system without any human intervention. If the established rules do not allow straight-through processing for a request, then RPA assigns the correspondence to the appropriate department for further handling. The goal is to end up with minimal manual intervention as possible and to structure the quality control process as efficiently as possible.
Fundamental criteria for achieving lessened manual intervention are extracting the right data based on the best possible OCR recognition rate and setting the correct execution and assignment rules for RPA. The lead time and average handling time can be significantly reduced through RPA. The below diagram illustrates a possible process flow for the described use case: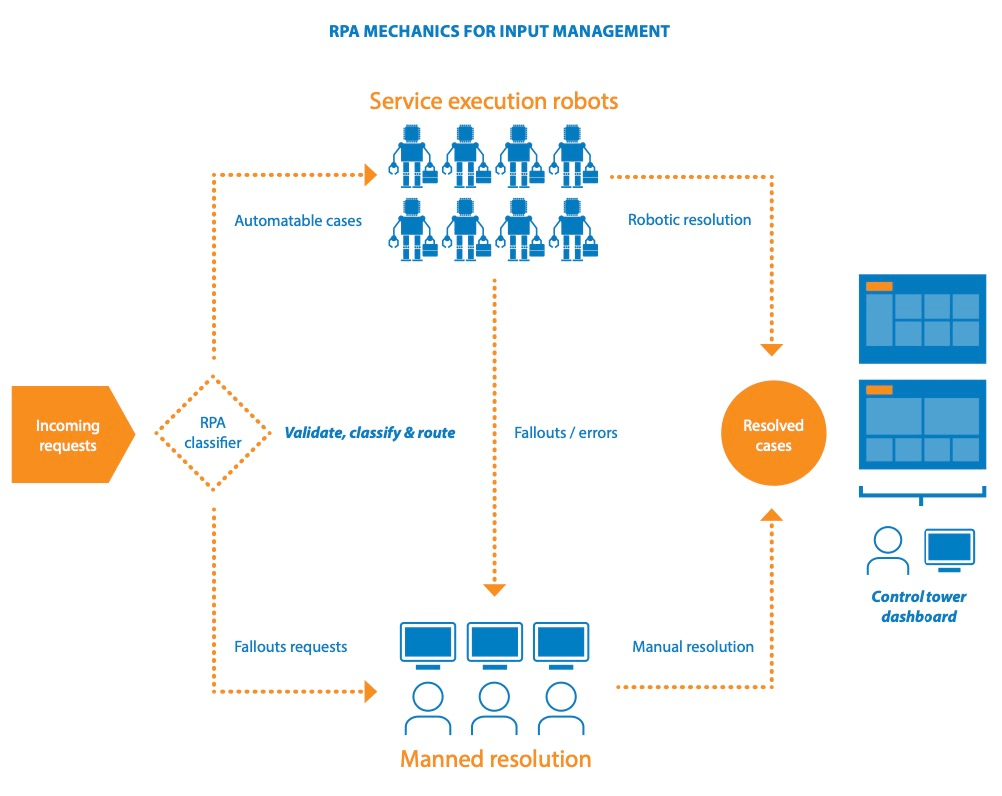 Four RPA key success factors
1. Define the problem and the right candidates for RPA
To maximize the value of a potential RPA program, the starting point is the operational understanding of the process and tasks to be automated, including the overall context. Companies should ask the following questions:
What is the purpose of the process?
Why is it structured in a current way?
Who is part of the process and why are they involved?
Does the process contain complex tasks or are they repetitive and rule-based?
Answering these questions provides clear guidance on whether an RPA implementation is suitable or not.
2. Align the automation roadmap with the IT strategy
After defining the scope, there are several other critical questions that decision-makers need to ask before implementing robotic process automation:
Is there already an RPA tool in the company or is a specific one foreseen?
Can the existing RPA tool solve my problems?
Does my planned framework align well with the existing IT architecture and the future IT strategy of the company?
Does my planned framework setup fulfill the security guidelines? \
3. Start small, think big
While implementing an automation program like RPA, it is safe to start small, selecting one or two internal processes that can act as pilots and demonstrate the benefits of this technology. Setting up pilots can be accomplished in around eight to twelve-week; with a return on investment that can reduce operating costs anywhere between 40-75%, the potential payoff is significant too.
A well-chosen pilot has other advantages in implementing a focused or enterprise-wide automation initiative. As Harvard Professor John P. Kotter argues in his influential book Leading Change, being able to demonstrate short-term wins is an essential condition to galvanizing internal support for any successful change management program.
4. Plan change management activities
To ensure the best chance at success, RPA needs to be embedded in an overall change management program. Explaining the urgency and business case for altering the status quo increases the likelihood of acceptance. Those employees who are directly affected should be made aware at an early stage of their role during the project and after implementation.
Another part of successful change management is to ensure automation is effectively adopted on the ground by the relevant team or department where implemented.
Getting started with RPA
Skcript serves clients in the insurance industry to define and implement their automation roadmap and capture a fast start in reaping the benefits of this burgeoning technology. Skcript's expertise ranges from assessing internal processes for potential application of RPA to deciding the best pilots and evaluating the most suitable tools for implementation. In the later phases of a more extensive rollout across the company, Skcript accompanies clients at every step of the journey – especially through the critical change management and adoption phases – to ensure the right value and return on investment can be achieved.
Conclusion
Every insurance sector around the globe is at a crossroads in terms of coinciding with the competitive challenges driven by technology, sharper competition, and today's economic environment. Robotic process automation offers companies a way to shift the standard in their favor. With Skcript's guidance, RPA can be implemented relatively quickly for key internal processes, resulting in higher efficiencies, streamlined costs, and more time for employees to focus on value-added work. Ultimately, RPA serves as an essential foundation for future business models.
Last updated: November 21st, 2023 at 6:56:16 PM GMT+0