Why are we hooked to social media?
Do you call yourself a Facebook addict? Are you hooked to your Instagram scrolling through pointless feed? Our designer read an amazing book by Nir Eyal and went on a spree noticing such addictive behaviours across many applications she uses on a daily basis. Read to find out.

Karthik Kamalakannan / 13 March, 2018

This article is based on Nir Eyal's book called Hooked which is about building habit-forming products. He categorizes products as two types, vitamins and pain killers. Vitamins are to prevent a medical condition while painkillers are pain alleviators when the medical condition persists. People can do without vitamins but painkillers are something that people can't do without. Painkillers have the potential to become a habit as slowly it morphs into a pain alleviating product from a pleasure seeking product. In this scenario, a medical condition coupled with the painkiller over a time period becomes a habit.
Nir Eyal says, connecting the user's problem with a solution with enough frequency forms a habit. He formulated the famous hook model to build habit-forming products. The hook model has four phases, Trigger, Actions, Rewards and Investments. To understand more about the hook model please read the book, Hooked: How to Build Habit-Forming Products Video Course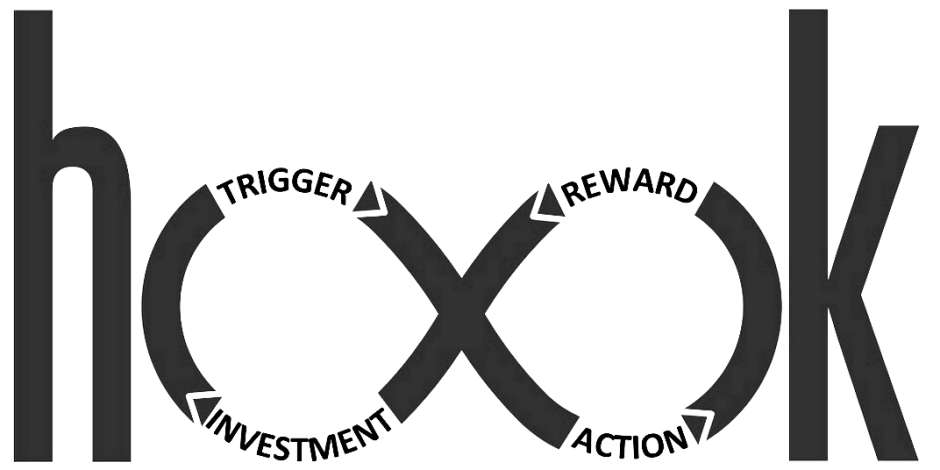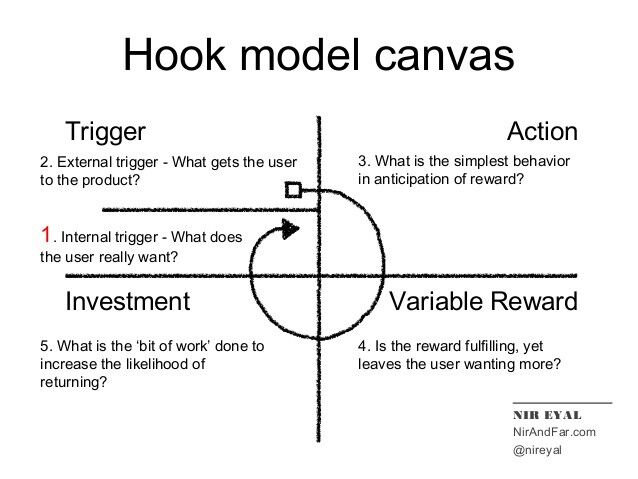 In this article, I have attempted to recognize the four phases of the hook model in applications that I use on a daily basis.
Whatsapp
Trigger:
External: Notifications
Internal: Fear of missing out on conversations, to be constantly in touch with friends, anxiety, stress, itch
Action: Open the application and text contacts
Reward: The single and double tick acknowledgment that the text has been received or read.
Investment: A reply to a text message. This keeps the conversation going, causing it to be a habit-forming product.
Medium
Trigger:
External: Initially they hosted controversial articles and integrated with Twitter to gain traction.
Internal: To read, write and share articles about topics that interest the user with the community.
Action: Users read and write articles.
Reward: Users receive claps from the reader as a form of appreciation.
Investment: The rewards encourages the users to write and post more as they get the feeling that people read what they write and their ideas are being validated and accepted.
Amazon (or any online shopping experience)
Trigger:
External: The need to buy something
Internal: To shop from the comfort of your home
Action: Log on to your Amazon profile, look for an item to purchase, place the order
Reward: The thrill of anticipation, offers, shopping suggestions
Investment: The user shows interest in other purchases. Thus making this a habit-forming product.
Linkedin
Trigger:
External: Notifications, Contact me part of people's profiles
Internal: The need to be easily connected with work peers and people who can help your career growth.
Action: Connect with peers and share posts.
Reward: Ability to grow your network and keep up with their professional change.
Investment: Creating a small network has a multiplying effect. The user gets more invested in the service.
Facebook
Trigger:
External: Notifications, Share to facebook prompts across the web.
Internal: Lonesome, seek connection, the need to keep in touch with friends and family, fear of missing out
Action: Scroll through the feed, like comment or share posts
Reward: User feels included in the lives of his friends and family, receives likes comments and friend requests, the user feels engaged in virtual conversations, social acceptance
Investment: Notifications act as external triggers which drive the users back to the service, Add friends
Instagram
Trigger:
External: Notifications, Pictures with pretty filters on Facebook and twitter posed as external triggers and linked back to the service. This made users download the app and sign-up.
Action: Clicked a picture, applied a filter and posted it.
Reward: Likes and comments, social acceptance.
Investment: Rewards act as internal triggers and makes the users post again. This is an investment back to the service.
Snapchat
Trigger:
External: Notifications.
Internal: Fear of loosing the moment, Quick honest conversations.
Action: Open the app, click a picture or shoot a bite sized video and send.
Reward: Excitement of anticipation , creative because of its endless possibilities of editing the picture, You can expect honest replies because the image goes away in seconds.
Investment: Prompts like 'Double tap to reply' acts as investment because they are external triggers for the next action. Thereby making it a habit forming product.
Pinterest
Trigger:
External: Notifications, prompts in other social media.
Internal: Boredom
Action: Sign-up with the service, scroll through feed
Reward: Other users re-pin their which is a social reward.
Investment: Pin , Re-pin, like and comment
Everything listed above are from my observations. If you find any discrepancies please do let me know, it will be very helpful.
Last updated: November 21st, 2023 at 6:56:16 PM GMT+0